SKULL series auto super dark Welding Helmet Decals mask
Product Detail
FAQ
Product Tags
Battery powered solar assisted long life (up to 5000 hours),with changeable batteries required.
Features automatic closing circuit in 15-20 minutes and low battery indicator.
Four independent arc sensors.
Filter darkening reaction is 1/25000 seconds.
It is applicable to MMA, TIG, PAC, PAW, CAC-A.
Variable shade 9~13, variable sensitivity and delay control.
Light weight, well balanced, advanced design fully adjustable headgear.
Includes the replacement of the cover lenses.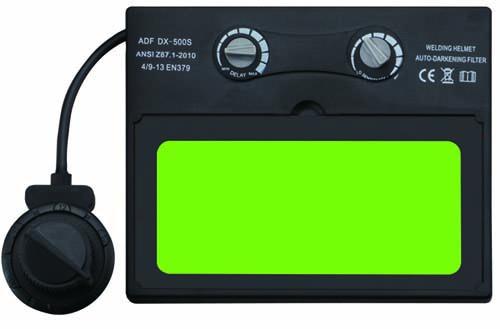 Customized  Service
(1) Customer's Company Logo, laser engraving on screen.
(2) Manual( Different language or content)
(3) Ear Sticker Design
(4) Noticing Sticker Design
MOQ: 200 PCS
The Date of Shipment : 30 Days after receive deposit
Method of payment : 30%TT as deposit, 70%TT before shipment or L/C At sight.
FAQ
1. Are you manufacture or trading company?
We are manufacture located in Ningbo City, we are a high-tech enterprise ,covers  a total floor area of 25000 square meters,have 2 factories, one is mainly in producing Welding Machine,such as ,MMA,MIG,WSE,CUT and so on. Welding Helmet and Car Battery Charger, Other company is for producing welding cable and plug.
2.Is the sample paid or free?
The sample for welding helemt and cables are free of charge, you just  pay for express cost. You will pay for the welding machine and its courier cost.
3. How long can receive the sample welding machine?
How long does it take to receive this sample?
Sample production takes 3-4 days,  and  4-5 working days by courier.
4. How long does it take for a bulk order ?
How long does it take to produce bulk order?
About 35 days.
| | | | | | | | |
| --- | --- | --- | --- | --- | --- | --- | --- |
| Model | ADF DX-300S | ADF DX-400S | ADF DX-500S | ADF DX-500T | ADF DX-550E | ADF DX-650E | ADF DX-600S |
| Optical Class | 1/1/1/2 | 1/2/1/2 | 1/2/1/2 | 1/2/1/2 | 1/2/1/2 | 1/2/1/2 | 1/1/1/2 |
| Dark State | Variable shade,9~13 | Variable shade,9~13 | Variable shade,9~13 | Variable shade,9~13 | Variable shade,9~13 | Variable shade,9~13 | Variable shade,9~13 |
| Shade Control | External | External | External | External | Internal | Internal | External |
| Cartridge Size | 110mmx90mmx9mm(4.33"x3.54"x0.35") | 110mmx90mmx9mm(4.33"x3.54"x0.35") | 110mmx90mmx9mm(4.33"x3.54"x0.35") | 110mmx90mmx9mm(4.33"x3.54"x0.35") | 110mmx90mmx9mm(4.33"x3.54"x0.35") | 110mmx90mmx9mm(4.33"x3.54"x0.35") | 110mmx90mmx9mm(4.33"x3.54"x0.35") |
| Viewing Size | 90mmx35mm(3.54" x 1.38") | 92mmx42mm(3.62" x 1.65") | 92mmx42mm(3.62" x 1.65") | 92mmx42mm(3.62" x 1.65") | 92mmx42mm(3.62" x 1.65") | 98mmx43mm(3.86" x 1.69") | 98mmx43mm(3.86" x 1.69") |
| Arc Sensor | 2 | 2 | 2 | 2 | 2 | 2 | 2 |
| Battery Type | No Battery change required | No Battery change required | No Battery change required | 1xCR2032 Lithium Battery | 2xCR2032 Lithium Battery | 2xCR2032 Lithium Battery | 2xCR2032 Lithium Battery |
| Battery Life | 5000 H | 5000 H | 5000 H | 5000 H | 5000 H | 5000 H | 5000 H |
| Power | Solar Cell + Lithium Battery | Solar Cell + Lithium Battery | Solar Cell + Lithium Battery | Solar Cell + Lithium Battery | Solar Cell + Lithium Battery | Solar Cell + Lithium Battery | Solar Cell + Lithium Battery |
| Shell Material | PP | PP | PP | PP | PP | PP | PP |
| Headband Material | LDPE | LDPE | LDPE | LDPE | LDPE | LDPE | LDPE |
| User Type | Professional and DIY Household | Professional and DIY Household | Professional and DIY Household | Professional and DIY Household | Professional and DIY Household | Professional and DIY Household | Professional and DIY Household |
| Visor Type | Auto Darkening Filter | Auto Darkening Filter | Auto Darkening Filter | Auto Darkening Filter | Auto Darkening Filter | Auto Darkening Filter | Auto Darkening Filter |
| Low Amperage TIG | 35Amps(AC), 35Amps(DC) | 20Amps(AC), 20Amps(DC) | 10Amps(AC), 10Amps(DC) | 10Amps(AC), 10Amps(DC) | 20Amps(AC), 20Amps(DC) | 5Amps(AC), 5Amps(DC) | 5Amps(AC), 5Amps(DC) |
| Light State | DIN4 | DIN4 | DIN4 | DIN4 | DIN4 | DIN4 | DIN4 |
| Dark To Light | 0.25-0.45s Auto | 0.25-0.85s Auto | 0.1-1.0s Auto | 0.1-1.0s by adjustment button | 0.1-1.0s by adjustment button | 0.1-1.0s by adjustment button | 0.1-1.0s by infinitely dial knob |
| Light To Dark | 1/5000S  | 1/15000S  | 1/15000S  | 1/25000S  | 1/15000S | 1/25000S | 1/25000S |
| Sensitivity Control | Low To High, by infinitely dial knob | Low To High, by infinitely dial knob | Low To High, by infinitely dial knob | Low To High, by infinitely dial knob | Unadjustable, by adjustment button | Unadjustable, Auto | Low To High, by infinitely dial knob |
| UV/IR Protection | DIN16 | DIN16 | DIN16 | DIN16 | DIN16 | DIN16 | DIN16 |
| GRIND Function | NO | YES | YES | YES | YES | YES | YES |
| Low Volume Alarm | NO | NO | NO | NO | NO | NO | YES |
| ADF Self-check | NO | NO | NO | NO | NO | NO | YES |
| Working Temperature | -5℃~+55℃( 23℉~131℉) | -5℃~+55℃( 23℉~131℉) | -5℃~+55℃( 23℉~131℉) | -5℃~+55℃( 23℉~131℉) | -5℃~+55℃( 23℉~131℉) | -5℃~+55℃( 23℉~131℉) | -5℃~+55℃( 23℉~131℉) |
| Storage Temperature | -20℃~+70℃(-4℉~158℉) | -20℃~+70℃(-4℉~158℉) | -20℃~+70℃(-4℉~158℉) | -20℃~+70℃(-4℉~158℉) | -20℃~+70℃(-4℉~158℉) | -20℃~+70℃(-4℉~158℉) | -20℃~+70℃(-4℉~158℉) |
| Warranty | 1 Year | 1 Year | 1 Year | 1 Year | 1 Year | 1 Year | 1 Year |
| Weight | 480g | 480g | 480g | 490g | 490g | 490g | 500g |
| Packing Size | 33x23x26cm | 33x23x26cm | 33x23x26cm | 33x23x26cm | 33x23x23cm | 33x23x23cm | 33x23x26cm |
| Certificate | ANSI,CE | CE,ANSI, SAA | CE,ANSI, SAA | CE,ANSI, CSA | CE,ANSI | CE,ANSI | CE,ANSI, SAA |
---
---
---