Auto Darkening Welding Mask Welding Helmet FREE SERIES
Product Detail
FAQ
Product Tags
Color: Black matte welding helmet with blue decal.
Light-weight,durable and easy to use. The wider viewing area 3.86" x 3.15" allows for much better visibility and the variable shades 9~13 allow a lot more flexibility when it comes to projects you can take on.
It is powered by a solar cell making it unnecessary to worry about replacing batteries(Solar cell can last up to 5000 hours),with changeable batteries. Solar cell + 1xCR2450 Lithium Battery.
| | | | |
| --- | --- | --- | --- |
| Model | ADF DX-980E | ADF DX-980N | ADF DX-950N |
| Optical Class | 1/1/1/2 | 1/1/1/2 | 1/1/1/2 |
| Shade Control | Variable Shade,Digital display: 5~8.5; 9~13.5 | Variable Shade, 9~13 | Variable Shade, 9~13 |
| Cartridge Size | 133mmx14mmx10mm (5.24"x0.55"x0.39") | 133mmx14mmx10mm (5.24"x0.55"x0.39") | 133mmx14mmx10mm (5.24"x0.55"x0.39") |
| Viewing Size | 98mmx80mm (3.86" x 3.15") | 98mmx80mm (3.86" x 3.15") | 98mmx62mm (3.86" x 2.44") |
| Arc Sensor | 4 | 4 | 4 |
| Battery Type | 1xCR2450 Lithium Battery, 3V | 1xCR2450 Lithium Battery, 3V | 2xCR2450 Lithium Battery, 3V |
| Battery Life | 5000 H | 5000 H | 5000 H |
| Power | Solar Cell + Lithium Battery | Solar Cell + Lithium Battery | Solar Cell + Lithium Battery |
| Shell Material | PP | PP | PP |
| Headband Material | LDPE | LDPE | LDPE |
| Recommend Industry | Heavy Infrastructure | Heavy Infrastructure | Heavy Infrastructure |
| User Type | Professional and DIY Household | Professional and DIY Household | Professional and DIY Household |
| Visor Type | Auto Darkening Filter | Auto Darkening Filter | Auto Darkening Filter |
| Welding Process | MMA, MIG, MAG, TIG, Plasma Cutting, Arc Gouging | MMA, MIG, MAG, TIG, Plasma Cutting, Arc Gouging | MMA, MIG, MAG, TIG, Plasma Cutting, Arc Gouging |
| Low Amperage TIG | 5Amps(AC), 5Amps(DC) | 5Amps(AC), 5Amps(DC) | 5Amps(AC), 5Amps(DC) |
| Light State | DIN4 | DIN4 | DIN4 |
| Dark To Light | 0.1-2.0s by infinitely dial knob | 0.1-2.0s by infinitely dial knob | 0.1-2.0s by infinitely dial knob |
| Light To Dark | 1/25000S by infinitely dial knob | 1/25000S by infinitely dial knob | 1/25000S by infinitely dial knob |
| Sensitivity Control | Low To High, by infinitely dial knob | Low To High, by infinitely dial knob | Low To High, by infinitely dial knob |
| UV/IT Protection | DIN16 | DIN16 | DIN16 |
| GRIND Function | YES | YES | YES |
| Low Volume Alarm | YES | YES | YES |
| ADF Self-check | YES | YES | YES |
| Working Temperature | -5℃~+55℃( 23℉~131℉) | -5℃~+55℃( 23℉~131℉) | -5℃~+55℃( 23℉~131℉) |
| Storage Temperature | -20℃~+70℃(-4℉~158℉) | -20℃~+70℃(-4℉~158℉) | -20℃~+70℃(-4℉~158℉) |
| Warranty | 1 Year | 1 Year | 1 Year |
| Weight | 530g | 530g | 530g |
| Packing Size | 34x23x26cm | 34x23x26cm | 34x23x26cm |
Package include:
1 x Welding Helmet
1 x Adjustable Headband
1 x User Manual
Packaing Way:
(1) Assembled Package: 1PC/ Color Box, 6 PCS/ CTN
(2) Bulk Package: 15 or 16 PCS / CTN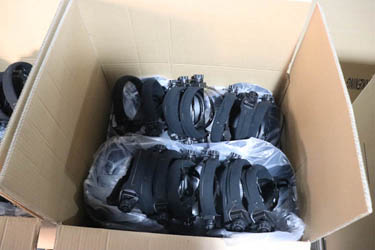 ---
---
---